4.1.3 Reuse as a Circular Strategy
Course subject(s) Module 4. Reuse of packaging

Reuse can be applied as a circular packaging strategy in two ways:
The consumer owns the packaging and refills it with the desired product. He buys the packaging once and maintains and cleans it himself, buying new refills of the product that will be consumed while the packaging can be reused. An example of this is refilling jerrycan with gasoline for your lawnmower.
The producers owns and fills the packaging, the consumer uses the product and returns the packaging. The producer has to collect the packaging, clean and maintain it, and can sell new product in a refilled packaging. An example of this is the aforementioned beer bottle.
Both strategies be applied in a business to consumer transaction, as shown in the examples above, but also in the business to business market. For instance:
Campsites in France commonly have large gas cylinders to store fuel for their water heating locally. Once in a while, a tank lorry will come to refill these cylinders. In this case the campsite owner only buys the new gas and reuses his own cylinders.
Restaurants or bars that sell draught beer, buy the beer themselves in kegs that can be connected to the tap. The bar owner buys the beer from a brewery and sells in to his guests. The kegs are returned to the brewery, where they will be cleaned and refilled.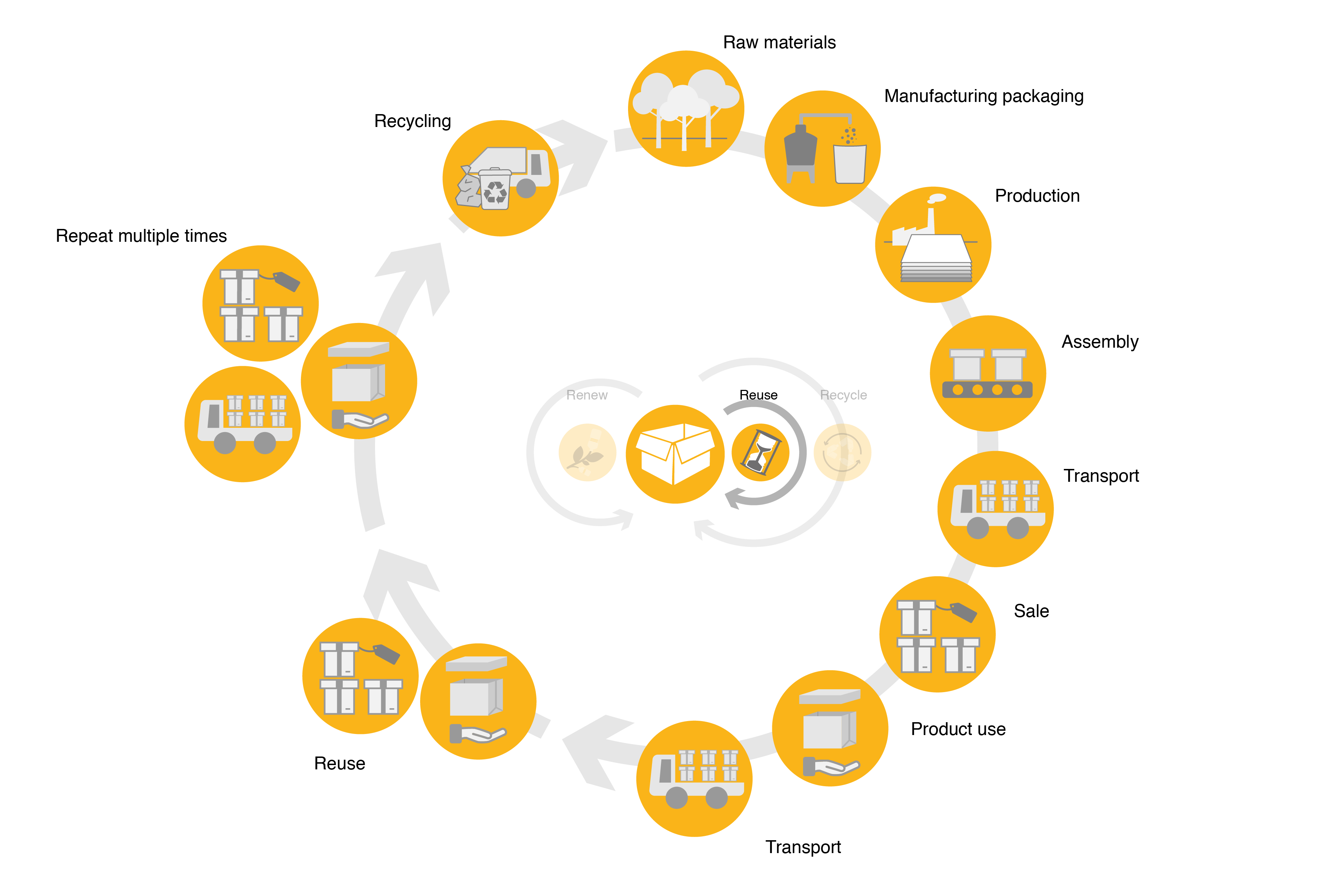 To make packaging reusable usually investments need to be made. A reusable sports bottle is a sturdy product, it requires more and different material (usually polypropyleen and a high wall thickness). It has a cap that can be screwed off to clean the inside and refill the bottle. This all adds costs in comparison to a single-use PET bottle.
When the packaging needs to be returned to the producer, more costs are added. Still the product needs to be durable and be able to be cleaned easily. Also efficient take back logistics need to be in place, and costs are made in the reconditioning (cleaning and maintenance) of the packaging.
The financial investments and the added environmental impact that comes with the production, return logistics, and reconditioning of the packaging are compensated because the costs and emissions are spread out over multiple use cycles of the same packaging. In this way the overall costs and emissions are reduced by reusable packaging. Moreover, durable reusable packaging will improve product protection and reduce product damages.