Electronic Power Conversion – Readings
Course subject(s) Module 2: Power Semiconductors Module 3: Basic Electrical and Magnetic Circuit Concepts Module 4: Diode Rectifiers Module 5: DC-DC converters Module 6: DC-AC converters Module 7: Power Supplies Module 8. Applications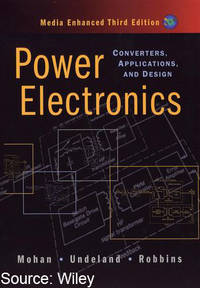 The lectures in this course are based on chapters from the book Power Electronics: Converters, Applications and Design by N. Mohan, T.M. Undeland and W.P. Robbins.
The book is published by Wiley with ISBN number 978-0-471-22693-2 (3rd edition).
Both the 2nd and 3rd edition can be used with this course.