Reading 1: Sustainable Development for Engineers
Course subject(s) Course Module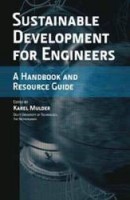 Sustainable Development for Engineers, a Handbook and Resource Guide
Mulder, K., 2006. Sustainable development for engineers, a handbook and resource guide. (ISBN: 1-874719-19-5)
It is crucial that engineers – from students to those already practicing – have a deep understanding to the environmental threats facing the world, if they are to become part of the solution and not the problem. Is there a way to reconcile modern lifestyles with the compelling need for change? Could new improved technologies play a key role? If great leaps in the environmental efficiency of technologies are needed, can they be produced? Engineers are in a privileged and hugely influential position to innovate, design and build a sustainable future. But are they engaged or uninterested? Are they knowledgeable or ignorant?
The aim is to give engineering students a grounding in the challenge that sustainable development poses to the engineering profession, the contribution the engineer can make to attaining some of the societal and environmental goals of sustainability, and the barriers and pitfalls engineers will likely need to confront in their professional lives.
Concise but comprehensive, the book examines the key tools, skills and techniques that can be used in engineering design and management to ensure that whole-life costs and impacts of engineering schemes are addressed at every stage of planning, implementation and disposal. The book also aims to demonstrate through real-life examples the tangible benefits that have already been achieved in many engineering projects, and to highlight how real improvements can be, and are being, made. Each chapter ends with a series of questions and exercises for the student to undertake.