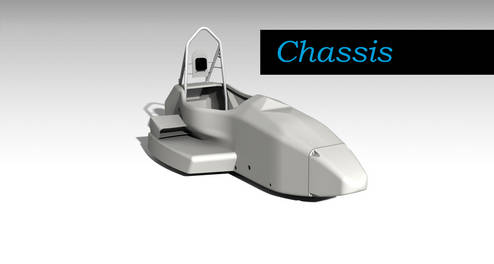 The Chassis is a vital component of a race car. It accommodates and shields both the driver and the electronics used in the race car and serves as the mounting structure for all of the car's components. The DUT race car has some nice ergonomic features built in to ensure optimal performance and comfort. The Monocoque is custom made to match the specifications from the regulations and influenced by the necessary ergonomic design features. Learn more about the engineering behind the design and educate yourself by taking the free online lectures found on this page, taken from courses taught at TU Delft.
Ergonomics
One of the most important design aspects is to accommodate the driver and ensure his safety. Of course the driver has to sit comfortably, safely and have a clear line of sight. To optimally accommodate the driver the cockpit, steering wheel and seat are optimized for the drivers body dimensions. But getting the ergonomics right is actually a tricky aspect of designing the car, since it has to fit a variety of different sized drivers.
Elementary Ergonomics is one of the courses in which TU Delft students are educated in ergonomics. Check out the introduction video below, in which the DUT racing car features as a case study.
Monocoque
The monocoque is the main body of the car (as a load bearing structure) to which the suspension and powertrain connect and it is the bodywork that accommodates the various components are integrated. This integration of the functions of chassis and bodywork in a single monocoque results in better performance because this makes the race car is lighter, stronger, safer and more aerodynamic.
However, this also poses a number of engineering challenges: Which materials will you use to construct a monocoque? How do you find the optimum balance between weight and rigidity? And what are the loads put on the monocoque when the car is accelerating, cornering or braking?
The course 'Dynamics and Stability' will introduce to you calculations of the different loads placed on the monocoque, in various situations. Once you know which forces to take into account, our Dutch course on 'Materiaalkunde' (Materials engineering) will teach you about different materials and their suitability for a particular use. You should also take a look at the Related Courses page.