2.5.2. The importance of mapping for heritage
Course subject(s) 2. Water under the bridge: What is water culture?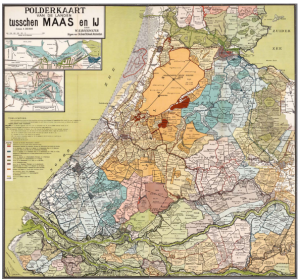 Water infrastructure and management can take the scale of a nation, as the case of the Netherlands shows. Large European rivers shed their waters to the North Sea and Dutch people have shaped the entire country over centuries to channel waters for agricultural and industrial processes and for shipping, while also protecting cities and landscapes against floods. Specific institutions, namely the Dutch waterboards, have emerged over centuries as stewards of the Dutch waterscape. These historical processes have resulted in cities and landscapes that effectively shape all future decision-making.
A research group from the Dutch Cultural Heritage Agency and Delft University of Technology used geo-spatial mapping to get a better understanding of the historical development of the Dutch water system, as well as the institutional and administrative layer associated with it. The maps show how scales of intervention evolved over time. The arrows in the maps document the changing ways in which water was channeled through diverse territories. They effectively document that water management in the Netherlands is a heritage practice and needs to be recognized as such.
To get a better understanding of the Dutch water system and its transformation over time as well as the role that geospatial mapping can play in understanding water and heritage, please read this document.
These extracts are taken from Water system and urban form in Holland: A survey in maps: 1575, 1680, 1900 and 2015 by Jaap Evert Abrahamse, Menne Kosian, Reinout Rutte, Otto Diesfeldt, Iskandar Pané, Yvonne van Mil, Thomas van den Brink and Arnoud de Waaije. The document is available under a Creative Commons Attribution 4.0 International license.