1. Minimaal opspannende bomen
Course subject(s) Lesmateriaal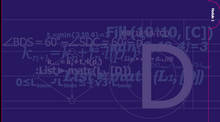 Om uw leerlingen zich het onderwerp Minimaal Opspannende Bomen eigen te laten maken kunt u op diverse wijzen gebruik maken van het materiaal in deze module. Het materiaal bestaat uit een leerlingentekst met theorie, opgaven en antwoorden. Daarnaast treft u toetsopgaven en extra opgaven aan. Ook is er aandacht voor het bestuderen van wetenschappelijke literatuur over het onderwerp en het programmeren op een grafische rekenmachine.
U kunt de moduletekst voorleggen aan de leerlingen en de genoemde literatuur gebruiken voor uzelf, als achtergrondinformatie. 

U kunt het materiaal gebruiken om een eigen vorm te geven aan uw lessen. U gebruikt de diverse onderdelen om uw eigen verhaal over het onderwerp voor te bereiden. De opdrachten uit de module gebruikt u dan bijvoorbeeld als oefenmateriaal.
De leerlingen kunnen zich verdiepen in het onderwerp door middel van eigen onderzoek. U heeft dan materiaal en literatuur beschikbaar als achtergrondinformatie. 
Om leerlingen vertrouwd te maken met wetenschappelijk studiemateriaal kunt u ze ook direct de genoemde paragraaf uit Introductions to Operations Research (Hillier / Lieberman) voorleggen. Voor de Engelstalige literatuur kan de woordenlijst van module 0 en de oefening met het lezen van universitair studiemateriaal van dienst zijn.

Bij dit onderwerp kan de grafische rekenmachine ook een rol spelen. Ook voor dat materiaal geldt dat u het de leerlingen direct kunt verstrekken of maar u kunt het ze ook zelf proberen te laten schrijven.
De toetsopgaven zijn te gebruiken voor het samenstellen van een toets. Vanzelfsprekend kunnen leerlingen door middel van een verslag of een presentatie ook laten zien in hoeverre zij de materie beheersen. De kennis van het programma 'grafmat' uit module 0 kan daarbij van dienst kan zijn.
Het staat u vrij onderstaand Word-document naar believen aan te passen.