3.5.3 Remote Assessment Guidelines
Course subject(s) 3. Plan your course design

This page contains a summary of advice to teachers with future on-campus assessment on the possibilities to change their assessments to remote assessments.
Remote Assessment
The following link will direct you to the complete Remote Assessment Guidelines created by the Assessment Taskforce.
While more detailed information can be found in the above link, below is a brief summary of some available remote assessment types. Here is a rough schedule that can help you to determine new, remote assessment types.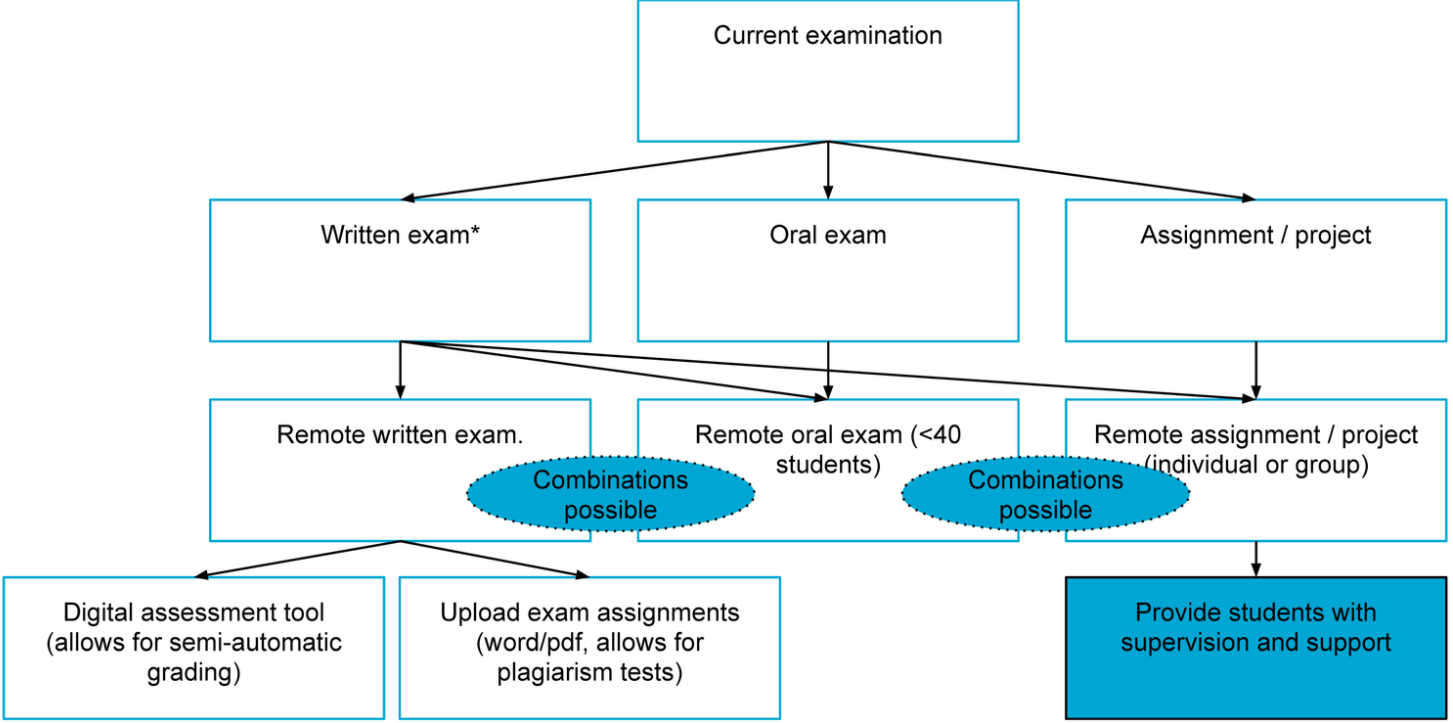 In the schedule with frequently chosen changes of assessment type, assignments, projects (including presentations, reports and code) and oral exams usually change into their remote version.
Written Exams
For written exams, it depends very much on the learning objectives, whether it can be changed into an assignment/project (individual or group), a remote oral exam (only for small numbers of students) or 'simply' a remote written exam.
A combination of remote assessment types is of course also possible (strive for a spread of deadlines and exams for your course and the other courses that students take).
Remote written exams can be administered in two ways:
as downloadable assignments: During the exam time-frame, students download the exam and upload their answers before the deadline, for example 45 minutes later. Exams can be split into 2-4 parts with each their own time window. The answers can for example be typed word-documents or pdfs, or scanned handwritten answers in pdf-format. Uploading movies is also possible (both for the student as well as for the teacher). See here for a how-to on setting up a Brightspace assignment
2. as a (partly) automatically graded digital exam: you and your team can either manually grade longer questions, which allows for partial grading (giving a student for example 2 out of 5 points for partially correct answers), or automatically graded questions with short answers. In the latter case, you would have to go over the incorrect answers to check whether unforeseen answers are nevertheless correct. See here for setting up a Brightspace quiz for an exam
Larger projects and assignments can have multiple deliverables and assessment items, like reports, presentations (either live via YouSeeU or Skype for Business, or via a delivered recording in Brightspace Assignments), code, or observed skills.
Depending on your remote assessment type (see above), you can choose an assessment tool and fraud prevention measures.
Guiding Principles for Assessment
There are two guiding principles when you redesign your assessment: constructive alignment and fairness. The key elements to achieve alignment and fairness are displayed in the following picture, and explained in more detail in the text below.