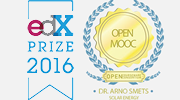 In the third edition of Solar Energy, you will learn to design a complete photovoltaic system. This course introduces the technology that converts solar energy into electricity, heat and solar fuels with a main focus on electricity generation. Photovoltaic (PV) devices are presented as advanced semiconductor devices that deliver electricity directly from sunlight. The emphasis is on understanding the working principle of a solar cell, fabrication of solar cells, PV module construction and the design of a PV system. You will gain a greater understanding of the principles of the photovoltaic conversion- the conversion of light into electricity.
This course explores the advantages, limitations and challenges of different solar cell technologies, such as crystalline silicon solar cell technology, thin film solar cell technologies and the latest novel solar cell concepts as studied on lab-scale. We will discuss the specifications of solar modules and demonstrate how to design a complete solar system for any particular application.
This course has been awarded with the Award for Open Education Excellence in 2014 and shortlisted for the Wharton Award in the category for Teaching Delivery in 2014.
The various methods of converting solar energy into electricity, heat and solar fuels
The physical working principles of photovoltaic conversion in solar cells
How to recognize and describe the various solar cell technologies, their current status and future technological challenges
How to analyze the performance of solar cells and modules
How to design a complete photovoltaic system for any particular application on paper