Scheepvaart is onmisbaar, net als goed opgeleide maritiem ingenieurs. Natuurlijk heeft Maritieme Techniek alles met scheepsbouw te maken. Een groot schip is bijna een klein dorp en je leert een schip ontwerpen met alle voorzieningen die nodig zijn. Maar een maritiem ingenieur heeft veel meer in de vingers. Boorplatforms, rederijen, vaarroutes, verzekeringen, olie- en gastransport, offshore-installaties, pijp- en kabelleggers en zwaar transport: het is allemaal Maritieme Techniek.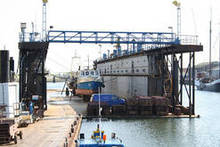 Grote en gerenommeerde bergingsbedrijven zijn in Nederlandse handen. En meer dan de helft van de baggerschepen wordt in Nederland ontworpen en gebouwd. In Delft ontmoet je die praktijk: docenten 'uit het veld' komen je vertellen over de nieuwste ontwikkelingen en geregeld zijn deskundigen uit het bedrijfsleven te gast.
Bovendien is Maritieme Techniek aan de TU Delft uniek in Nederland, het is de enige maritieme opleiding op academisch niveau.
Opleiding
In het driejarige studieprogramma krijg je hoorcolleges, kleinere werkgroepen, oefeningen, ontwerpopdrachten en projecten. In die projecten, waarin je samenwerkt met een groep van zo?n zes studenten onder begeleiding van een studentcoach,pas je de theorie echt toe. En je leert samenwerken, presenteren en rapporteren, onmisbaar in je latere werk. In het derde jaar kies je een minor en je sluit de opleiding af met een grote ontwerpopdracht en een onderzoeksproject.
Na de afsluiting kun je doorstromen naar een aansluitende masteropleiding, die 2 jaar duurt.
Carrière
Als maritiem ingenieur heb je flink wat mogelijkheden. Je bestuurt en optimaliseert bijvoorbeeld productieprocessen op een scheepswerf. Je haalt orders binnen of je ontwikkelt nieuwe scheepstypen en productietechnieken. Onderzoek doe je bijvoorbeeld aan de TU Delft of het MARIN in Wageningen. Je kunt ook het onderwijs in en kennis overdragen aan een nieuwe lichting studenten. Na je opleiding ben je eigenlijk verzekerd van een goede baan.
Maritieme Techniek (3)