Voorbeelden van Werktuigbouwkunde zie je overal. Auto's, treinen, graafmachines, maar ook een operatietang of een installatie voor zonne-energie. Als werktuigbouwkundig ingenieur kun je een grote bijdrage leveren aan de oplossingen van de toekomst: van duurzame en schone auto's tot comfortabele protheses.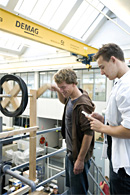 Werktuigbouwkunde is de breedste technische opleiding. En aan de TU Delft vatten we breed ook echt als breed op. In het kort komt het erop neer dat je natuurkunde letterlijk in praktijk brengt. Werktuigen, gereedschappen, apparaten, machines en fabrieken, dat zijn de dingen die je als werktuigbouwkundige bedenkt, ontwerpt en maakt.
Onmisbare schakel
Al deze systemen, processen en apparaten worden steeds geavanceerder en gecompliceerder. Een werktuigbouwkundige is dan ook een onmisbare schakel. Voor nieuwe technologieën en toekomstgerichte oplossingen. Voor een visie op levensduur, energieverbruik, gebruiksgemak, veiligheid, afval en hergebruik. In Delft leer je dat. Je leert panklare oplossingen kritisch te onderzoeken en betere te bedenken. Je gaat aan de slag met computersimulaties om productietechnieken te testen. Je ontdekt hoe bestaande machines en fabrieken kunnen blijven functioneren.
Werktuigbouwers zijn groot in grote dingen bedenken en maken. Zoals de tunnelboormachines die de Kanaaltunnel hebben geboord. En ze zijn groot in heel kleine dingen, bijvoorbeeld de uiterst precieze machines om computerchips te produceren. Wil je techniek en samenleving in één opleiding? Wil je dingen maken met je handen e
n de theorie erachter kennen? Wil je een carrière als techneut? Of juist in management? Dan ben je bij Werktuigbouwkunde op de juiste plek.